Freemium - Free Childcare App For Your Centre
5th Nov 2018
Kheang Ly
We have made the decision to offer the OWNA Childcare App for free. You are probably thinking - "Are they crazy?" and "Why would they do that?"
While we still have our Premium App offering which have a raft of extra options and features, the Freemium App has many features that most Centres need on a daily basis.
In this blog we will outline why we are offering all Centres in Australia as well as Internationally FREE access to a world class platform that will ensure their Centre(s) run more efficiently, cut down on paper and most importantly ensuring they are meeting their obligations as set out by their respective industry body (ACECQA - for Australian Centres).
We have found that some of our Centres that are on the Premium App package don't make full use of the whole feature set (and believe us there are so many useful features) so we have decided to build a cut down version and have it available to any Centre who wants it for FREE. Yes FREE! No set up costs no monthly fee. There are so many features on this Freemium App and so easy to use that you can hit the ground running in no time.
The Freemium App also does so much more than what other App providers such as Storypark, Kinderloop, Educa, KindyHub, Kinder M8 and so forth have on their paid App. We think you would be crazy to keep paying for an App now that you can have it all for FREE.
This is not a gimmick or knee jerk reaction. This is NOT a FREE Trial Offer OR a FREE for a Couple of Months Offer which some of the other providers have mentioned in reaction to our offering. This is FREE Forever. Guaranteed or your money back. Oh hang on, you're not paying anything for it.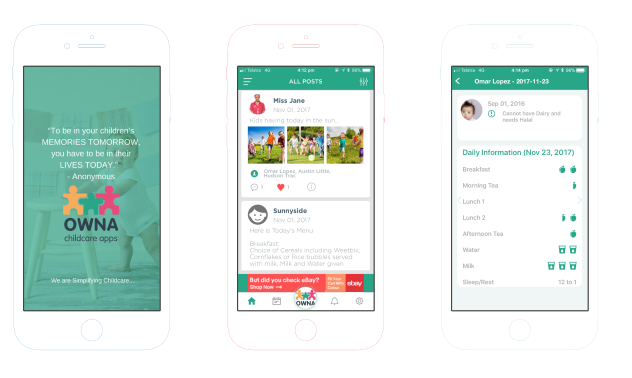 So what does the App offer. It can't be that much can it? You will be surprised! Below are some of the features available to you now.
For Educators
Checkin/Out (Timesheets)
Curriculum Programming
Upload Images, Videos & PDFs
Portfolios - Observations, Follow Ups, Learning Stories ++
Private Messaging
Record Daily Routine - Meals, Sleep, Sunscreen, Nappies, Bottles, Sleep Check++
Complete Checklists
Receive Notification Alerts
QIP
Plus loads more+++

For Parents
Attendances - Time Logged & Signature captured
Ability to view write ups, images and videos uploaded
View children's daily stats (meal, sleep, bottles etc) with past history
Read Children's Portfolios
Let Centre know of Child's Non Attendances
Upload Immunisation Record
Children's Goals
Event Calendar
Communication with Centre
Plus loads more+++

For Owners/Directors/Management
App for both Educators & Parents
Responsible Person & Daily RP Log
Room Ratio/Across the Service Check
Digitise Reports - as per ACECQA's req'd
Administration Dashboard to oversee your Centre or multiple Centres
Centre Documents, Policies & Procedures, Helpful websites and more
Staff Timesheets
Staff Stats & Performance Data
Events Calendar
Centre's Menus with automatic rotation
QIP Report
Safe & Secure Platform. Data stored locally. Adhere to industry standards.
Plus loads more+++

You might be wondering what about support and technical assistance on this Freemium App? Is all my centre's data safe & secure? What else can it do? Just because you have the Freemium App doesn't mean you are on your own. We will run weekly webinars that goes through how to use the App. We have a tutorial section that runs through how to set up your Centre and how to use certain features. We have a request log that you access to log issues, faults and feedback. All your Centre's data are securely located here in Australia. We take security and privacy seriously and do our utmost to ensure all protocols are in place to ward off any security breaches as per the Industry Standards. Read our Privacy Policy and Terms and Conditions for more on this subject.
We are certain our competitors will try and disparage our offering mentioning because it's a free product/service it can't do this or that, is not secure, the support is no good etc etc. We'll leave that to you to decide when you try it out.
For those Centres who want a bit more, we have adopted a "pay for what you want model" where you can pick and choose the features that you want bolted onto the App. Once subscribed these features will automatically be available on your App and Portal. All our features are reasonably priced ensuring you come out better than if you were paying for an App from another provider.
For those Centres who want the lot and then some, our Premium App package is always available which entitles you to everything. Your OWN custom App, all features/benefits, support and training, constant upgrades to name a few. If you want this get in contact with us.
So How Do I Get My Free App? - Just follow these 3 easy steps below to get your Free App now.
1. Sign up for your Freemium App at www.owna.com.au.
2. Once we've verified you, we will set you up and give you your login credentials
3. Follow the instructions on the PDF that we send you to finish setting up your Centre (i.e. setting up rooms, children, staff, centre info etc etc)

If you have any questions on how this all works - feel free to reach out to us at support@owna.com.au
---
---