Our Child Care Apps Combine All Your Different Applications Into One
One of the primary challenges for the modern childcare centre is ensuring that it remains compliant with regulations, meaning that staff must always do absolutely everything they can to keep detailed records of day to day events, routines and procedures.
As we all know, this isn't always easy – and most of the time, staff, management and parents alike struggle to keep fully on top of all the relevant requirements that must be collected and stored. But with the help of our childcare app, things quickly become much easier for everyone involved.
+ Expand
With the app, every time an educator changes a child's nappy or puts a child to bed, or witness a child eating a meal they'll be able to quickly and easily record the information, which will then be securely stored for the mandatory seven years.
Not only does this make the lives of educators/childcare staff easier, but it also makes things a lot easier for management, who can effortlessly monitor what's happening throughout the whole centre at the touch of a button. And for busy parents who often find themselves forgetting to check their child's information sheet when they pick them up at the end of the day, an interactive app makes it possible to access all the relevant information from a smartphone or tablet on-the-go, at any time and in any place with access to the internet.
The Benefits of a Custom Child Care App from OWNA
Here at OWNA, we understand that each and every childcare centre is slightly different, both in terms of image/branding, and in terms of important policies, procedures and general approaches. This is why we're committed to providing fully bespoke, comprehensive apps which are custom-designed to fit the specific needs of each individual customer.
When you choose to use our services, you'll be provided with a dedicated professional who will work closely with you to gain a thorough understanding of your particular business and the challenges you and your team face on a day to day basis. Then, our highly skilled and experienced team will work to produce a carefully crafted app, made just for your business and incorporating your logo and branding.
Any further customisations you wish to make yourself can be carried out using our straightforward platform, meaning you'll always be able to keep your system updated as your business evolves.
Get Your App Within 72 Hours
Once you contact us and express interest in obtaining your own, bespoke app, we'll be able to provide an obligation-free online demo that very same day. Then, you'll have a chance to think about what you've learnt and decide whether or not you'd like to proceed.
If you decide to, we'll get to work immediately with crafting your custom app, guaranteeing that you'll have administrative access within 48-72 hours of first getting in touch. Contact us today to arrange your demo or find out more information.
Our Childcare App does it all and will make a major difference to your centre. From management, childcare assistance & programs to application assistance and other resources. Get in touch with us today.
- Less
For Centres
Easily Manage Your Centre
- Attendances (Time & Signature).
- Improve Occupancy & Revenue.
- Room Ratios/Rostering/Staff Log.
- Improve business operations.
- and loads more+++
For Staff
Improve Staff Efficiency
- Easily Track Children Stats
- Easily Plan Curriculum Program.
- Improve Staff Morale.
- Effective communication tool.
- and loads more+++
For Families
Effective Parent Communication
- Realtime access to children's data.
- View Images/Videos and more.
- Great Feedback tool.
- Stay up to date with Event Calendar.
- and loads more+++
Compliance
Adhere to all Requirements
- Record kept for 7 or 25 years.
- All data accurate and logged.
- Data backed up and stored securely.
- Improve business operations.
- and loads more+++
Unique features

With so many features we can't list them all, but here are a few standout ones.
Features/Benefits
- Your Custom App. Your Logo, Your Colours & Your Brand.

- Digital Attendances (including time in/out & digital signatures)

- Staff/Room Check in/out

- Menus & Tracking Food Intake

- Record Sleep/Rest & Sleep Checks

- Record Nappy Changes/Toilet Training

- Evacuation Checklists

- Visitors Log (Sign in/out)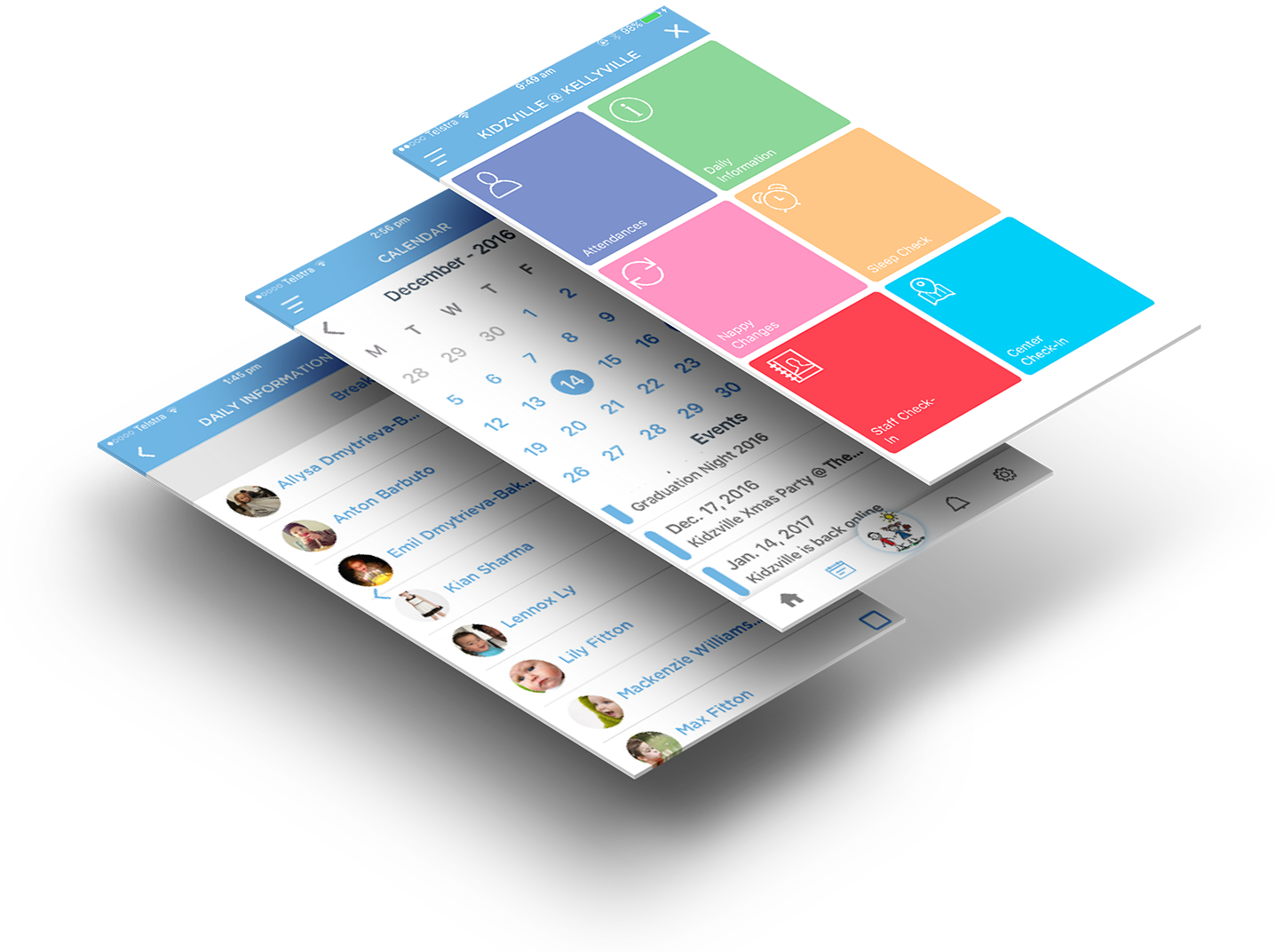 Features/Benefits
- Unlimited Push Notifications.

- Event Calendars

- Curriculum Programming

- Quality Improvement Plan (QIP)

- Observations/Follow Ups

- Link to EYLF, NQS, Theorists, P&P & more

- Automatic birthday messages & vaccination reminders

- Incident & Medication Reports and heaps more....


The only platform in the world that considers your brand
Your Centre's own native Apps and Website
Your Centre's App
Built for both iOS & Android

- Custom apps for your centre, your brand, your identity...
- Safe and secure (SSL). PCI compliant. Data mirrored and backed-up daily
- Different mode for Staff and Parents/Guardians
- Familiar user interface similar with apps that people are already accustomed too
- Easy and fun to use ensuring seamless learning curve
- Packed with heaps of feature which are constantly upgraded
How do I get one?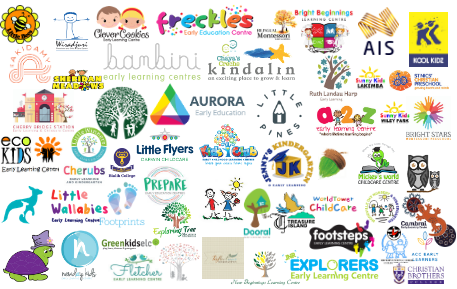 Up and running in 72 hours
Below is a quick run down of the time it takes from an order to having your custom App available. Yes, we can guarantee that it will be built within 48-72 hours.
Meeting
We will come out to your centre (or an online demo). We run through how the app works and all the features & benefits you will get from using it at your centre.
More info
Today
Day 1
Decision
You let us know if you are happy to proceed and what package would suit your centre (refer to package pricing below). You will get a complimentary FREE two week trial and if you are not happy with it, you can simply walk away.
More info
Tomorrow
Day 2
App Build
We build your custom app for you as well as give you access to the administration backend portal to administer it all. We release the app to the App Store and Google Play and it should be ready within a day or two for you to start using. It doesn't get easier than that.
More info
Day after Tomorrow
Day 3
OWNA - Simplifying Childcare Management
App Pricing
Let us create your app for you. Below are the packages that are available.
FREEMIUM
Access to the Owna Childcare App for FREE with the following features.

FREE

Daily Information reporting (i.e. meals, sleep/rest, fluids tracking) (7 years tracking)
Nappy Change & Sleep Check Records (7 years tracking)
Ability to post to Images/Videos to Timeline
Curriculum Programming and linking to EYLF & NQS
Backend Dashboard for Administration
PREMIUM
Standard gives you all of the features of Freemium plus a bunch more stuff

$1.99 per child

/ month
Unlimited Posts, Observations & Messages to Timeline
Ability to customised the App to suit your centre. We know all centres are not the same
2 Week Trial supported by the Owna tech team to get you on your way
On-site support (training/technical)
Ongoing support and upgrades
Our Most Popular Package
PREMIUM Plus+
You get everything in this package and then some.

$2.99 per child

/ month
Further customisation to Centre's app
Your feature request will be escalated so that it is built before everyone elses
Integration service
Dedicated account manager
Support and training for Parents should your centre request it
If you are unsure of which package would suit your centre, feel free to contact us and our friendly staff would be more than happy to run you through each package and what would work for your centre.