Reading Space Interest Area Pack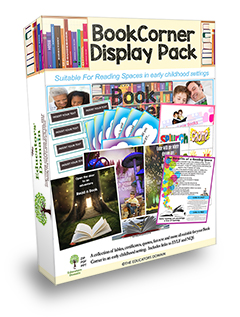 Seller: The Educators Domain
Everything you need for your Reading Space, includes topic cards, posters,signs, awards, quotes, links to EYLF and NQS and lots more
Purchase this now for only $7.99.
$7.99
---
Product description
Everything you need for your Reading Space, includes topic cards, posters,signs, awards, quotes, links to EYLF and NQS and lots more-click here to see what is included Read more...

Have a look at some of the pages below you will get in our Reading Area Interest Pack

Outcome Posters for Reading Key Learning Outcomes for Reading Posters

Book Corner Signs Includes a couple of ready to print sign with different wording and also an editable page if you have a particular name you like to use for your reading space.

The Benefits of a Reading Space This poster has a list of benefits for children when reading and looking at books. Includes links to EYLF and NQS

Book Hero Award An award to give out to children you notice taking special care with books.

Book Topic Lables Includes ready to print lables with topics and also includes an editable set for you to add topics for your service or as you add new books to suit interests of children.

Caring for Books Sign A ready to print sign for your book area reminding children of the best way to care for books.

Fun Comic Text Words Ready to print, simply laminate and cut each one out. These are fun words for children to say and you can either stick them around your book corner or have them in a container for an activity.

Inspirational Book Quotes for Children Ready to print posters for your reading space.

Promote thinking signs These can be placed around your reading space and are questions to ask children to encourage thinking about the story and the characters of the books they are reading.

Quiet Sign A poster reminding children your reading area is a quiet area.

Display Images Families Reading together Picture to print of families reading together to promote the importance of story time at home. Print, laminate and display in your reading area.