With everything in one place, OWNA helps you create amazing learning opportunities. Give yourself a headstart with:
Programming & Planning: Curriculum Programming, Daily Routines & Menus

Portfolios: Children's goals, daily log, stats & history

Family communication: show them the program, curriculum & stats for their child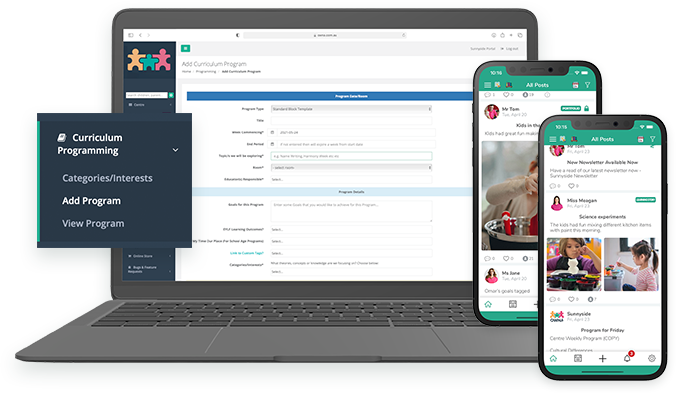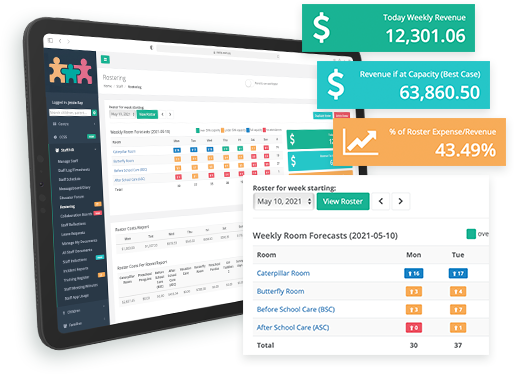 With the OWNA app, you can save time managing educator placement and performance with:
Compliance: Room Ratios, Responsible Person, Qualifications, First Aid (CPR, A&A), Child Protection, Working Directly with Children Register

HR Management: Rostering, Timesheets, Payroll integration, Scheduling & Check-In/Out

Staff Performance: Checklists, Staff Reflections, Inductions & Training.

Staff Communication: Staff Profiles, Diary, Messageboard & Collaboration Board, Meeting Minutes & Leave Requests
Of course we don't get into the Early Childhood Education and Care Sector for the money, but it's something we need in order to keep doing the jobs we love. Make accounts and invoicing easier through:
Payments: CCS, Invoicing, Payroll & Billing (inc. direct debits)

Reporting: to assist with centre processes

'Super User' admin, for those managing multiple centres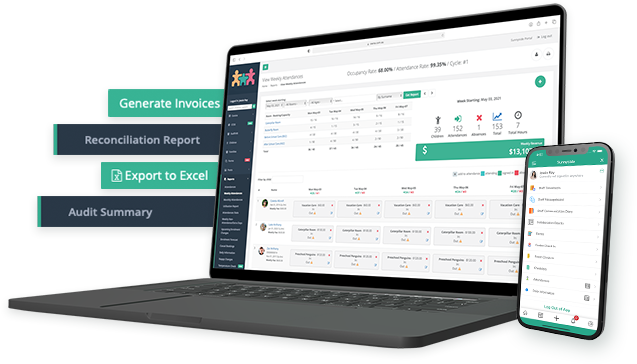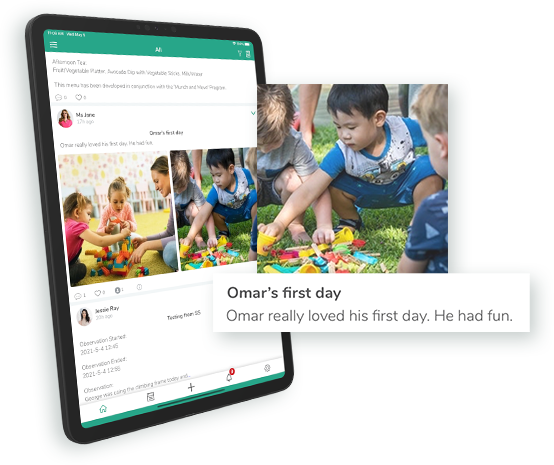 Working collaboratively with families is essential for building your service. With the app, you can increase family engagement through:
Posting: brighten up their day by posting images, videos & PDFs of their child's daily activities.

Messaging: build relationships and answer any queries or concerns parents may have.

Access: parents are able to see all of their child's information, and be part of the learning and development process.

Engagement: Family members can make posts, comments, complete custom forms inc excursion, feedback or goal setting.
Get ready for assessment and rating by getting all of your compliance documents in place, ready to show the assessor. Documents include:
QIP, Checklists, Reflections, Reports, Portfolios, Staff training and documents etc.

The ability to create new documents and consolidate them all in one place, allowing for easier assessment.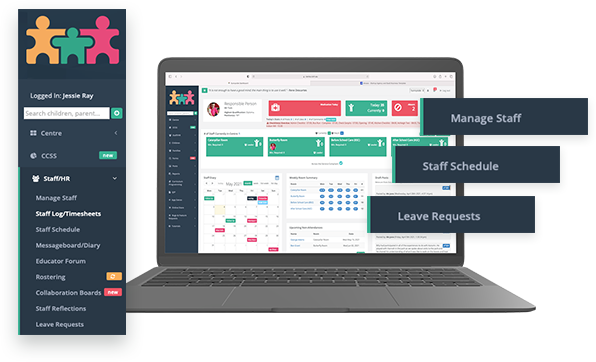 Trusted by Over 2,500 Services
Australia's most comprehensive app for early education. Join over 2,500 services in using the only true all-in-one childcare management software.
What People Are Saying About Us

"We LOVE OWNA! The app is such a great platform to have allinformation for Early Learning Services in one place.

We have used many apps before: Seesaw, Storypark, QK just to name a few and OWNA is leaps and bounds in front of them. The team at OWNA are fantastic and are always pushing new updates and requests to the app! Can't recommend highly enough!"
Athena
St. Nicholas Preschool
" This software has it all. Everything in one place and very user friendly. The support is excellent!

OWNA lets me have an overall snapshot of what's happening in the centre at one glance. It has also reduced paper and improved transparency for all team members. "
Karthika
Lidcombe Preschool Kindergarten
Pricing
FREE

Parent Communication (Limited)
Programming & Planning
Educator Management
Health & Safety
QIP

$1.49 per child / month

Everything from Freemium plus;

Unlimited Parent Communication
Rostering & Payroll
Staff Communication
CCS & Billing
All Relevant Documentation for NQS Compliance

Contact for pricing

Are you a multi-centre owner?

Get in touch to chat about your options with OWNA.
Free Resources
How To Improve NQS Rating with OWNA

Learn how OWNA helps you Meet & Exceed all of the Quality Areas, Standards & Elements.

2023 ECEC Calendar

Planning events or programs for next year? Here's everything you need to know about what's going on 2022!

Australian Guide to Healthy Eating Poster

The Australian Guide to Healthy Eating is a food selection guide which visually represents the proportion of the five food groups