You've Used Some of the Other Childcare Software Programs Out There like Xplor, Storypark or Qikkids.
Sure, they're ok - but they don't do everything, right?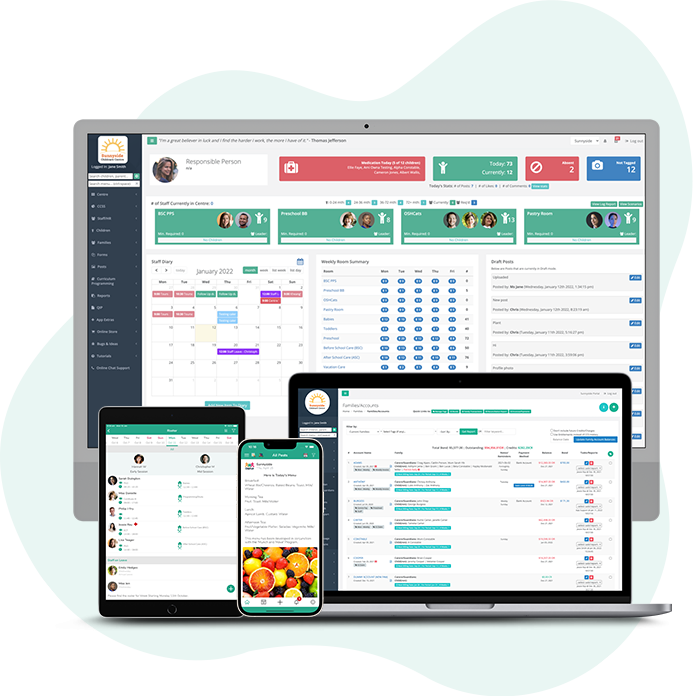 All-In-One Childcare Software Programs
As you're bound to already know, running a successful childcare centre requires a lot of hard work absolutely every day. But with the help of modern software, you can take steps to make your life – and the lives of your staff – much easier in the future as you go about your daily working tasks.
With childcare software programs, you're able to keep on top of your jobs and commitments with minimal fuss or bother - especially those that allow you to do everything from one place. Simply load up the app and you'll have access to all the data you need, from medical records and incident reports to staff check ins and check outs. Monitoring attendance, compliance, parent communications and everything else related to the effective management of your centre couldn't be easier.
Your staff will thank you too, as they'll be able to conveniently make notes and records with just the touch of a button. Every time they feed, put to bed or change the nappy of a child, they'll be able to make the necessary record in just a few moments, and it will be stored safely and securely on your program.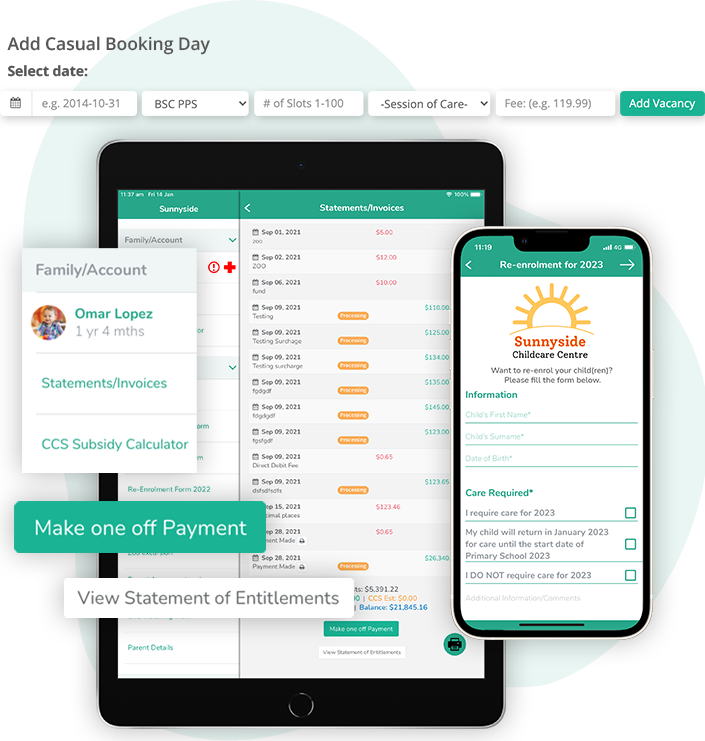 Why OWNA is the Best Childcare Software Program
When childcare software was first introduced, the goal was to solve a specific problem - whether that be the overflow of documentation, the inefficiency of remaining compliant, or the time it takes to manage Child Care Subsidy (CCS). And in the attempt to solve these problems, childcare centres would end up with multiple software programs in their centre. 20 tabs open, 10 apps put on your phone, and a huge amount of wasted time.
Our software comes in the form of an app, which can be quickly and conveniently downloaded onto your smartphone or tablet, and onto the devices your staff use on a daily basis. The app allows you to record, track and monitor staff check-ins and check-outs, menus, sleep checks and many other important areas of your childcare business.
On top of that, the requirements of early childhood services grew. After all, the introduction of apps meant that you could do more, right? More documentation to show ACECQA, and more posts required from parents has grown the workload even more. This has meant that the next generation of childcare software programs are needed to get back to a manageable workload.
That next generation is OWNA. Australia's #1 All-In-One Childcare Software Program.
Back when OWNA was founded, a simple idea was enshrined forever into the heart of our organisation: to provide Australian childcare centres with a truly customisable software program that is carefully tailored and adapted to their specific needs, preferences and requirements.
Unlike much of the other software available on the Australian market, the software we provide for our customers has always been designed just for them. This doesn't just mean that it will include their logo and their branding, but also that the core features of the app will have been developed with their specific guidelines, processes and protocols in mind.
Such a carefully customised and easy-to-use system works in the favour of parents as well as staff. Having everything together for parents means that they can see everything from educational outcomes and daily routines, down to invoices and subsidies, is an invaluable tool for parents. Many of them are very busy and frequently forget to check their child's information sheet before they leave at the end of the day. Others - particularly those with young children - prefer constant communication, and giving them access to all of this information means you can satisfy their need for connection to their child's day without taking more valuable educator time.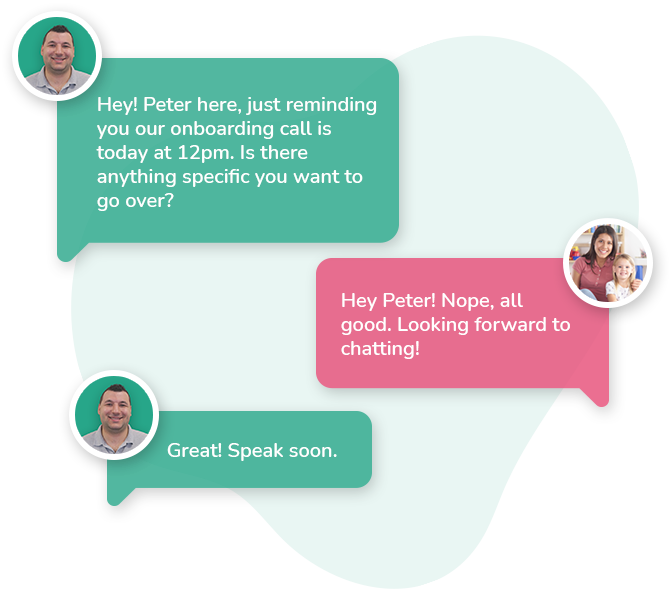 Get Your Childcare Software Login The Same Day
When you get in touch with us using the short online form available for completion on our website, you can book a free online demonstration of the software the same day. This demo will help us gain an understanding of exactly what you're looking for, and to provide you with as much information as possible about what OWNA can provide.
That's why, when a new customer contacts us, we provide an online demo that very same day. This gives us a chance to ensure that you're fully informed about how our services work, and for us to gain an understanding of exactly what it is you're looking for.
Then, if you're happy to proceed, we can get your account details to you in a few hours. From there, the onboarding team will then get everything set up for you - such as transferring data, setting up your rooms, training your staff & going live to families. So if you're looking for a swift and effective solution to all of your childcare centre's software needs, just contact us today.
What People Are Saying About Us

"Couldn't have done it without your amazing platform!!"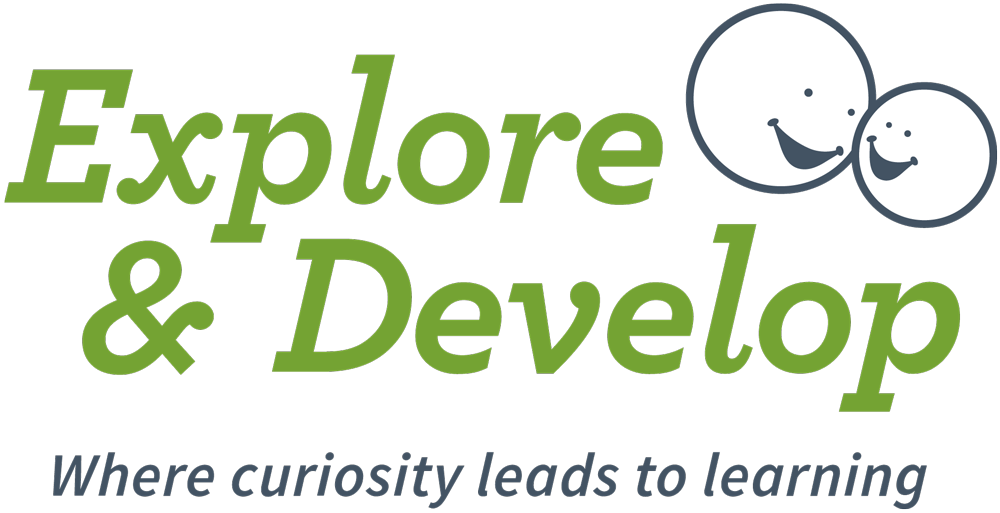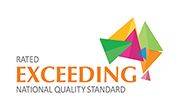 Sally Liebke
Explore & Develop Freshwater
"OWNA was vital to us
receiving Exceeding"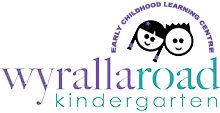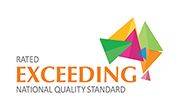 Melissa & Carissa
Wyralla Road Kindergarten
"OWNA is by far the best CCMS out there. We decided to try OWNA out for a new centre that we opened and now we are in the process of transferring all our centres from QIKKIDS to OWNA"

Hareesh
NUKids
"Our educators are our greatest resource, and the app has improved their efficiency and has really supported their own professional development."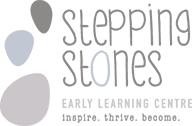 Chantelle
Stepping Stones ELC
Pricing
FREE

Parent Communication (Limited)
Programming & Planning
Educator Management
Health & Safety
QIP

Premium

Early Learning Centres

$1.49 per child / month

Everything from Freemium, plus;

Unlimited Parent Communication
Rostering & Payroll
Staff Communication
CCS & Billing
All Relevant Documentation for NQS Compliance

From $99/month

Everything from Premium, plus;

Casual Bookings
Bus Runs
Multiple Sessions for BSC/ASC

Contact for pricing

Are you a multi-centre owner?

Get in touch to chat about your options with OWNA.
Free Resources
Babies & Outdoor Play Information Sheet

No matter the season, outdoor environments afford unique and abundant opportunities for ...

Guide to the NQF

The Guide to the National Quality Framework (NQF) is designed to help education & care providers and authorised officers understand and apply the requirements.

Checklist for managing food allergy

Practical Tips that help you minimise risk and increase awareness of food allergy.

Winter Word Cards

Winter themed word cards. Use as part of 'Winter' themed role play areas and displays. Blank cards within the set to make your own or challenge the children to!