Full Centre Management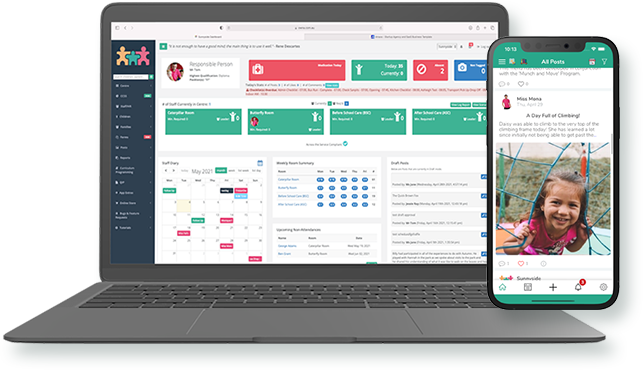 Build Relationships with Families
Increase parent engagement through images, videos, PDFs, events, daily stats, portfolios and more.

Manage Staff Effectively
Create rosters, timesheets and check-in/out, and manage Educators with checklists and reflections.

Breeze Through Compliance
Manage CCS, staff observations, centre documents, policies and procedures, and digitised reports.
Pricing
FREE

Parent Communication (Limited)
Programming & Planning
Educator Management
Health & Safety
QIP

From $99/month

All premium features tailored to OOSH/OSHC, including;

Casual Bookings
Bus Runs
Multiple Sessions for BSC/ASC

Contact for pricing

Are you a multi-centre owner?

Get in touch to chat about your options with OWNA.
FAQ's
1

How do I sign up for OWNA?

Fill out this form and one of our team will be in touch within 72hrs to get you set up.

2

Are there any extra costs with OWNA?

Absolutely none! Everything you need to run your service, including CCS and payments, for $1.49 per child/month.

3

What do you mean by 'all the features'?

OK, we can't claim to have every single feature, but we know we have more features than any other CCMS provider out there. And we add new features almost every week! By truly listening to our educators, we're proud to have built the most comprehensive all-in-one CCMS platform for ECEC services.

4

How long does it take to switch to OWNA?

We can set you up within 24hrs, but as a general rule-of-thumb, we set ourselves a target of two weeks to go live, train up your staff & get your families on the app.

5

What type of contracts do you have?

All of our contracts are pay-as-you-go. Our goal is to bring you the best value possible, and locking people into contracts really isn't our thing. Why not try it out? Enquire now

6

I don't want to use all of the features. Can I pay a bit less?

Of course! We can set you up with the free app, then allow you to choose your optional extras as you go. Get in touch to see what features are available for purchase